Order Now - Call Today
(866) 222-1422
Bamboo Bikes Becoming Popular in Africa
Bamboo is truly an amazing plant, growing up to 24 inches or 60 centimeters in a single day. Indeed, it's the most versatile and sustainable crop that can be grown. Plus, it can be harvested easily in many indigenous parts of the world, providing an economic resource as well as a sturdy building material for everything from houses to fences to home-style mats that add décor and comfort to any living space.
Bamboo is a versatile crop. Its use is only limited by the imagination. Indeed, not only is bamboo a viable economic resource for many indigenous communities, but it's also makes for a good pair of wheels. Bamboo bikes are becoming an affordable transportation option for many rural Africans who live in areas that can be tough on a bicycle frame. Good imported bikes are often beyond the economic means of the average African, and the cheap, steel bikes many are left riding bend like cheap aluminum under the brutal ruts, potholes and road conditions of the African landscape.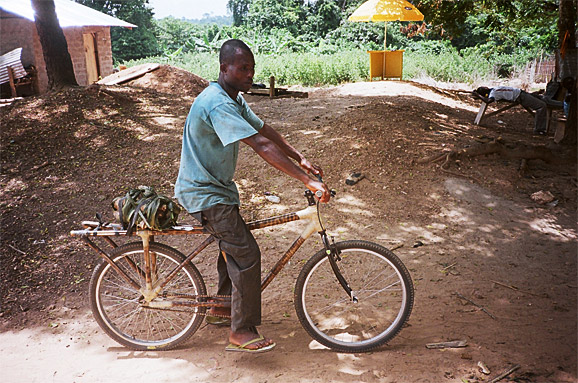 Bamboo carries a tensile strength greater than steel, but is much lighter, making an excellent substitute as a bike frame. Its quick growth and cheap abundance provide an ideal resource for bike frames, providing many poor Africans with quality transportation to get around in style.
Columbia University's Earth Institute's Bamboo Bike Project hopes to make bamboo bikes readily affordable to all Africans as a source of solving the region's transportation problems. The bikes can be provided to rural Africans cheaply, with bamboo's durability providing a long-lasting mode of transportation for traveling Africa's difficult roads.
The bikes are such high quality that the project is partly being funded by selling them to wealthier citizens of industrial nations. In addition to donations, the project earns money by hosting the Bamboo Bike Studio. Participants pay $1,250 to build their own bamboo bike in a weekend workshop, with half of the proceeds going to fund factories to mass-produce the bikes for rural Africans. They provide the parts, the instruction and the design over a weekend. You provide the labor and build your own bike. Not only do you get a unique bicycle that's stronger and lighter than steel, but you also provide much needed, affordable transportation opportunities for rural Africans.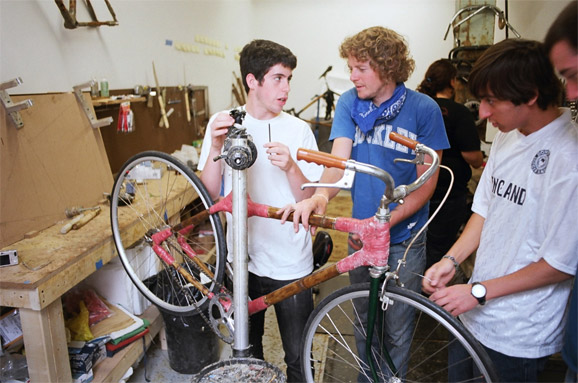 The bikes are completely custom-fitted, tuned to your unique preferences and riding style. Half of the cost of the bike directly supports the first bamboo bike factory in Ghana, providing Africans with an affordable transportation to better access jobs, medical facilities, water, food resources, and family members. Building your own unique bike that's light and built to last, you improve the lives of rural Africans in a dramatic way by providing quality transportation.
The project has a design for a model bike that can be mass-produced, and will soon be starting factories in Ghana and Kenya, where the bikes can be made cheaply for a fraction of the cost of the custom bikes built in the workshop. Not only are the bamboo bikes much cheaper than quality steel bikes, but they also last much longer, proving a durability that stands up to the rigors of African roads.
The bikes reportedly ride very smooth and have stood harsh tests of city streets like New York City. While it's not fair to compare city streets with the landscapes of Africa, urban riders have reported that the bikes roll over cobblestones and potholes gracefully, the bamboo frames absorbing more shock than heavier steel frames.
Bamboo is a very versatile and durable building material, excellent for making bamboo bicycles, quality floor mats or a bamboo-thatched canopy that shades the backyard. It's a traditional resource that adds a unique tropical style to any home. Not only is bamboo healthy for the environment, but it also helps support indigenous cultures. As the uses of bamboo become more creatively applied, from bicycle frames to unique household materials, more indigenous people find that the solution to their economic problems is growing right in their backyards.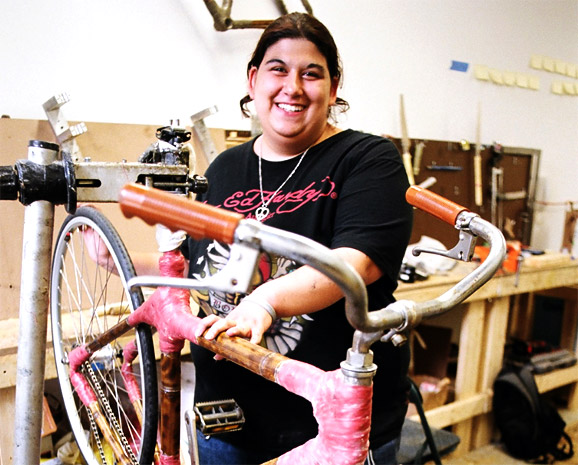 For more information on bamboo bikes in Africa visit GOOD Magazine.